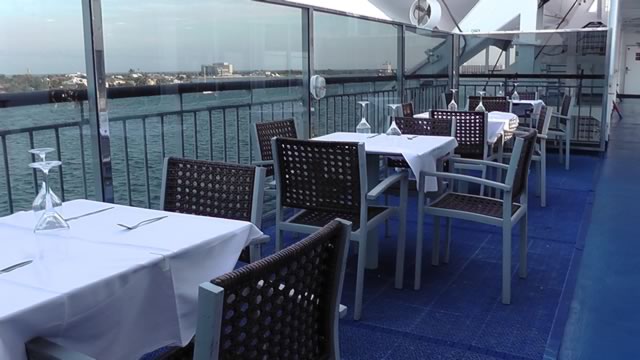 Discovery Cruise itinerary for the one day cruise
Discovery Cruise itinerary
Depart South Florida from Port Everglades in Ft. Lauderdale Sails everyday (except on Wednesday) departing at 8:00 AM, Arrives in Grand Bahama at 11:00 AM,  Returns to South Florida from Grand Bahama Island at 7:00 PM Arrives South Florida at 10:00 PM. the Discovery Cruise itinerary for the one day cruise is made for a great tropical getaway for a day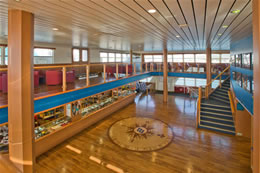 Info about other longer cruises too
For more info call: 954-969-0069
Discover Island Cruises presents you with the opportunity to enjoy a 1 day cruise or 2 night cruise even 3 night cruises. you will enjoy all the fun of a longer cruise offers in 1, 2 or3 fun-filled day or night cruises. It will prove to be the most entertaining way to travel to Grand Bahama Island. You can enjoy an All-You-Can-Eat buffets on the 2 and 3 night cruises to the Bahamas.
The 2 and 3 night cruise ships offers an action packed Las Vegas style casino, live shows and music, activities, not to mention a pool and sun deck. The 1 day cruise has slot machines
Price for the 1 day cruise from $73.00,
2 and 3 night cruises from $179, and $249. Call one of our agents at 954-969-0069 for up to the minute prices and possible discounts.
1 day cruises to travel to the Bahamas you will need a valid passport and a re-entry VISA if applicable.also, US citizens can travel with original birth Certificate and ID, 2 and 3 night cruises .
Stay on the island for a while longer… choose one of our exciting
Grand Bahama resort packages.
Sample activities on board other cruise ships on longer cruises
ACTIVITIES ONBOARD
2 and 3 night Bahamas cruise SAMPLE ACTIVITIES PROGRAM (SUBJECT TO CHANGE WITHOUT NOTICE)
ACTIVITY SCHEDULE
MORNING
7:00am – Music Videos – Starlight Showroom FLORIDA DECK
7:30am – 1: 00pm Shore Excursion Desk Opens FLORIDA DECK
8:30am – Movie Prop Lounge BAHAMAS DECK
9:00am Game Zone Opens Wii, Ping Pong , Video Games Music and more! DISCOVERY DECK
9:15am – 11:30am DJ Romeo Spins the Music – Bar & Grill DISCOVERY DECK
9:15am – Bon Voyage Limbo Deck Party – Bar & Grill DISCOVERY DECK
9:45am – Club Discovery opens for Junior Cruisers ages 6-11 FLORIDA DECK
9:45am – Scavenger Hunt Club Discovery FLORIDA DECK
20 minutes of departure – Duty Free Stores open 20 minutes of departure – FLORIDA DECK
20 minutes of departure – Casino Opens –LUCAYA DECK
10:00am – Jackpot Bingo with Free Game to Win a Cruise – Starlight Showroom FLORIDA DECK
10:00am Wii Tournament Club Illusion DISCOVERY DECK
10:45am – IMPORTANT TRAVEL TALK Starlight Showroom FLORIDA DECK
11:30am – Crazy Jackpot Bingo Bar & Grill DISCOVERY DECK
11:30am – Movie Prop Lounge BAHAMAS DECK
11:45am -Bahama Mama Deck Party Bar & Grill DISCOVERY DECK
12:00pm – Ping Pong Tournament Club Illusion DISCOVERY DECK
12:00:pm – TV Trivia Tropical Lounge LUCAYA DECK
12:45pm – 2:00pm – DJ Green Spins the Party Mix – Bar & Grill DISCOVERY DECK
12:30pm – 1:30pm – Live music with Dominican Express – Tropical Lounge LUCAYA DECK
1:30pm – Bar & Grill – Bahamian Dance Lesson and Bahama Mama Party DISCOVERY DECK
1:30pm – Boogie Bingo Starlight Showroom FLORIDA DECK
AFTERNOON
3:30pm – 6:00pm – Live music with Dominican Express – Tropical Lounge LUCAYA DECK
4:30pm -10:30pm VJ Green Spins the Party Mix -Starlight Showroom FLORIDA DECK
5:00pm – 7:00pm – DJ Romeo Bar & Grill DISCOVERY DECK
5:00pm – Game Zone Opens Wii, Ping Pong , Video Games, Music and more! DISCOVERY DECK
5:30PM – Movie Prop Lounge BAHAMAS DECK
6:00pm – Club Discovery opens for Junior Cruisers ages 6-11 FLORIDA DECK
Upon Departure – Sail-A-way Battle of the Sexes Deck Party – Bar & Grill DISCOVERY DECK
6:00pm – 6:30pm – Bingo – Tropical Lounge LUCAYA DECK
20 minutes of departure – Duty Free Stores Open – FLORIDA DECK
20 minutes of departure – Casino Opens – LUCAYA DECK
6:30pm – 7:30pm – Karaoke Contest Tropical Lounge LUCAYA DECK
8:00pm – Movie Prop Lounge BAHAMAS DECK
7:30pm -10:30pm – Live music with Dominican Express Tropical Lounge LUCAYA DECK
8:30pm – Dance Contest Starlight Showroom FLORIDA DECK
Playing Cards & Board Games available at the Pursers' Information Desk
Above subject to change